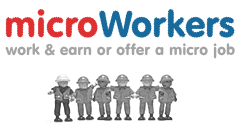 Much like mTurk, Microworkers is a marketplace that provides micro jobs that you can complete for some extra income. Here's my full review since I've signed up with Microworkers. I will keep this updated and add anything new along way.
What exactly is Microworkers?
Very similar to mTurk, ClickWorker, and Cloud Crowd – Simple tasks need to be completed online by humans in exchange for compensation. Tasks vary from doing Google searches to liking a Facebook page. Once a task is complete it will be reviewed and you will compensated if done correctly. Doing micro jobs feels more like playing games than actually working. It's pretty fun for doing actual work (if you can call it that).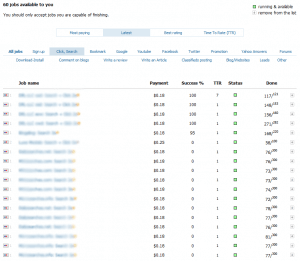 What's great
Easy, quick sign up.
You can start immediately.
No skill assessments/tests needed to start.
Tasks are separated into different categories for easier filtering.
Every task is optional and you can see it before accepting.
What's not so great
Right now there aren't a whole lot of tasks available.
When first starting, you will have a limit on the amount of tasks you can do. You must wait until the tasks are rated. You must keep your success rating over 75% – and depending how fast tasks are rated, you could be waiting up to a week to continue any more tasks. This may sound confusing but it will make more sense when you see it.
Many of the tasks aren't worth your time (too lengthy) to complete.
When requesting your first withdrawal, you must wait to receive a PIN number in the mail (received mine in 2 weeks) to verify account.
You must wait a couple of days to receive your payments when you request withdrawals.
End result

The screenshot above is what I've earned so far. Once you get the hang of it you can fly through tasks, but again – there aren't many (good) tasks to do since Microworkers hasn't gained much attention yet. Either way, I definitely recommend this site to anyone looking for extra work. If you have any more questions about it, check out the FAQ. Looking for similar tasks? Check out my review on Amazon's mTurk program.