In 2010, Microsoft released the rewards program for Xbox Live players to earn rewards. Throughout the years the rewards have been increasing along with more ways to earn. I found out about this program last year, signed up, and have been earning little by little.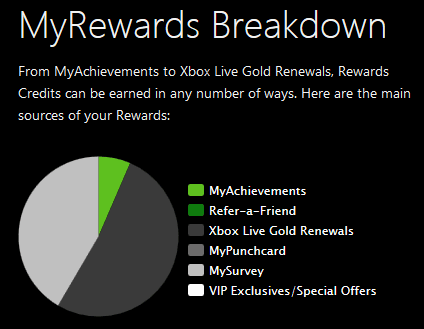 The Xbox rewards program is free to all Xbox Live subscribers. Microsoft gives players the opportunity to earn rewards just by playing games and participating in various activities. You can easily sign up at Xbox Rewards and link your account to the program to start earning.

If you haven't yet joined, you are missing out. Earning rewards is simple and you probably already do things in Xbox Live that help. Some of the ways to earn are by:
Playing new games

Renewing Xbox Live

Referring friends

Buying stuff in the Xbox store
Basically just use Xbox Live like you normally would and get rewarded. There is no downside to this program!

Other notes
Even though you have Xbox Live, you are not automatically enrolled into this program. You must enroll yourself manually.
Whatever you've done in Xbox Live before signing up, doesn't count toward your credits.
5,000 credits is said to be worth $5 towards Xbox Live. I can't say for sure, as I have not achieved this many credits yet.
You don't have to be enrolled in this program to get the two free games a month.