Use Turbo Lister? Chances are the backups are taking up massive space on your hard drive.
Turbo Lister is constantly deploying new updates and requires a database backup before installing the updates. Not that this is a bad thing, but the backups will begin to accumulate, and they aren't small files! Check this out…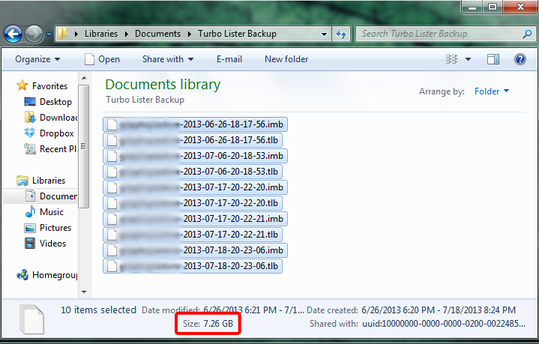 7.26GB and I have been trying to keep up with this. When I first discovered this issue, I had well over 20GB taken by Turbo Lister's backups. That's quite a bit of storage, don't you think?
I recommend clearing this out every couple of weeks (depending on how often you use Turbo Lister). You can keep the last couple of backups but if you are really stingy about backing up this data you will have to get some extra hard drives for sure. The file should be in users/(name)/documents/turbo lister backup.
One way to cut back on the amount of storage taken up by the backups – when prompted to backup, enable Compact database before backup.