Have you ever heard of eBay bucks? If you're an avid eBayer, you should be using this program. It gives you a chance to earn some money back when you make eBay purchases.
If you haven't signed up yet, you're missing out. It's free to join and there's no strings attached (except meeting the guidelines). Note: You must be a U.S. resident, have a PayPal account, and have a good standing account with eBay.
Why would eBay give me free money?
Just like any rewards program – to keep business going by enticing us to keep buying… and in this case using PayPal (since it's owned by eBay). It's the same thing with credit cards giving you perks for using their cards. The way I see it is – If I'm going to buy something anyways, why not get some money back. Enroll here.
How exactly do I receive eBay bucks?
To receive eBay bucks, you must be enrolled in the program and purchase qualifying items. Qualified items show how much you will get back.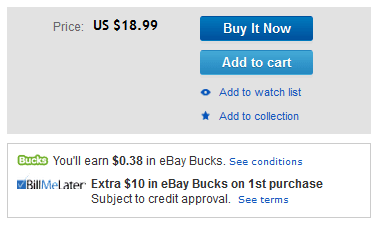 How do I use my eBay bucks?
When buying an item, your earnings will automatically be taken off the purchase amount at the checkout. If you don't want to use your rewards for that purchase, you can simply remove it.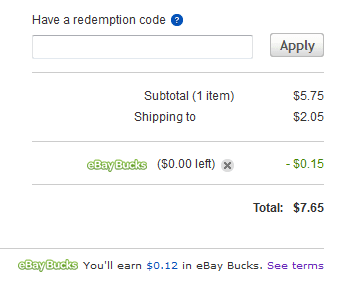 Other Notes

Not all purchases earn eBay bucks.
There are limits to how much you can earn.
You must have – and pay with a PayPal account.
The money will eventually expire if not used.
View FAQs and more information about this program.