Before you start selling on eBay, you should get familiar on how shipping works either with USPS or a company you prefer. This is a (2014) guide on how to ship with the United States Postal Service.
USPS (United States Postal Service) has many locations and is most accessible to anyone in the United States. This means, shipping with them is moderately convenient for eBay sellers. Trying to learn how to ship items through USPS can be a bit confusing if it's something you've never had to deal with before. I can't say that I know every single thing about shipping with them, but I can try to explain the basics and what you need to know.
If you are ready to start selling you should get supplies purchased and ready. You need a scale since eBay requires sellers to set shipping prices on all listings. You can buy a pretty cheap scale on Amazon or eBay. It doesn't have to be anything expensive, just something that will get the job done. I bought a digital scale on eBay for under $15 and it does a perfect job. You will need shipping supplies such as boxes, bubble wrap, etc. and I will cover more about supplies throughout this article.
It's best to weigh items last. Why? You need to weigh items as if you are about to ship it. Shipments are based on the final weight, not just the item inside. After you take the pictures and get most of the item listed, you can then pack it and weigh. Once weighed, you are able to calculate a price on usps.
Parcel Post
Parcel Post® – Parcel Post is a broad term which means you will be using 3rd party shipping supplies like corrugated boxes, bubble mailers, poly mailers, etc. There are many different sizes to choose from and they can be purchased in stores or online. Listed below are the different methods of Parcel shipping.
First-Class Mail® Parcel – First class is the best option for shipments under 1lb. First-class is meant for lighter/smaller sized items. It's cheap, ships fast, and you can use 3rd party shipping supplies. Some examples of what you would ship using first-class are DVDs, jewelry, and even some types of clothing. You will mostly see first-class Mail shipped in bubble/poly mailers.
Standard Post® – This is the most standard form of shipping items with USPS. Standard is what will be used if you are shipping an item over 1lb and using 3rd party shipping supplies. Standard Post is the slowest form of shipping. Some examples that ship via Standard Post are shoes, tools, and clothing. Standard can ship in boxes, poly/bubble mailers.
Media Mail® – Media Mail is set up specifically for media type items such as books. This form of shipping has many restrictions because it is discounted for media shipping. Here's an example, a 4lb book would cost about $10 to ship via Standard Post, but only about $4 with Media Mail. It's best to only use Media Mail for books. There's a lot of debate whether USPS lets people mail video games using Media Mail. Some say they have but USPS does in fact forbid it.
Priority Mail
Priority Mail® – USPS provides free priority boxes that can easily be ordered online and delivered right to your door. Regular priority is a bit different from flat rate. This will ship priority but the cost is based on weight and distance. Be very careful with this form of delivery because it could be costly.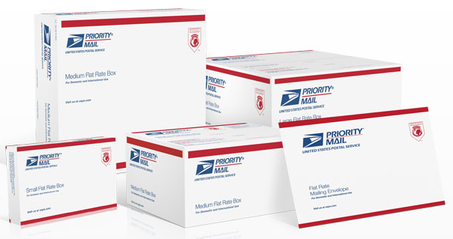 Priority Mail® Flat Rate – Flat rate is priority with set prices on box sizes. In my opinion, this form of priority delivery is better since prices are set no matter the weight or distance. Flat rate is definitely worth using if the item is heavy (weight can be up to 70lbs!). Priority is also great if you want to speed up delivery, it is somewhat of an expedited service that ships in 2-3 days.
Other useful info
You can print labels on paper and tape them to shipments but this looks tacky and USPS recommends not to tape over the barcodes. It's best to buy labels to make things easier and honestly, it looks more professional.
USPS provides online discounts when shipping. These discounts are given when labels are printed through eBay and usps.com.
All labels printed online are given a tracking code. If you print through eBay, the tracking is automatically added for you and the buyer. If printed through USPS.com, you must add the tracking code manually into eBay.
You will be charged for the label through your PayPal account as soon as it's printed. If you had charged the buyer for shipping, the amount will be in your account to cover the cost.
It may be a good idea to make an account on USPS in case there are ever any complications printing labels on eBay. It takes longer to make a label on the website but it does come in handy.