I have been ordering contacts from 1800contacts since the beginning of 2011 and I figured it was time to write a review about it. 1800contacts is similar to other 1800 websites in the fact that it's there to make our lives easier by providing a convenient way to order. Let's take a look at the pros and cons of this site.
What's great
The website is easy to navigate.
It has great prices.
Being able to order your contacts online is incredibly convenient.
Quick orders for returning customers. If you have an account already, you can order new contacts in less than 5 minutes because you can save multiple prescriptions on your account.

1800contacts offers live chat for any problems or questions that may arise.
A mobile app for easy ordering.
Almost all orders include free shipping.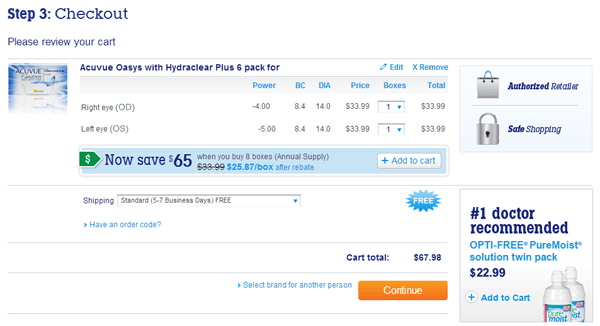 What's not so great
Since it's online, it's going to take some time to receive (obviously). Best not to order if it's an emergency order – unless you want to pay for quick shipping.
You must enter in your eye doctor information. I never cared for this, but I guess it's a way for your doctor to keep your orders on record.
End result
I've always liked 1800contacts since I purchased my first order from them. I've never had any issues with my orders and always received them in a week or less. If you have been thinking about ordering but weren't sure, I say go for it. I highly recommend this website. Learn how to order.