Oops! I used the wrong email in eBay for my PayPal transaction. If you are an eBay seller, chances are this has or may happen to you. It has happened to me before. Don't worry though, it can be fixed.
In Turbo Lister somehow my other email appeared as my PayPal account email. I didn't realize this until an item sold. At this point I was thinking I wouldn't get paid all because of my mistake. I scrounged around PayPal and found a solution. I found that PayPal allows us a total of 8 separate emails to accept payments. Whew! Now here's what to do.
Log in to your PayPal account. At the top, hover over Profile and click on Update Email.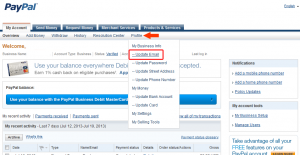 From here we can change the primary email and add new emails to our account. Note: Any added email can accept payments, not just the primary.